Spread the Ayurveda Goodness
Black rice has its origins in China some 10,000 years ago. Back then, it was called the 'emperor's rice' and 'forbidden rice' – it was kept aside only for the royals. But today, it also has its place in Ayurveda, since there are many black rice benefits arising from its nutritional value. This nutty and earthy-tasting superfood is found in two varieties – glutinous black rice and jasmine black rice. Let us learn more about the health benefits of black rice.
Health Benefits Of Black Rice: A Delicacy From The Ancient World
1. Black Rice Is A Powerful Antioxidant.
Dark coloured foods like black rice are known to be powerful antioxidant-rich foods. This is because of the extremely high levels of anthocyanin, a powerful polyphenol. Thanks to its antioxidant qualities, one of the important black rice health benefits is that it prevents free radical damage and other resulting conditions like cardiovascular diseases and cancer.

2. It's A Great Protein Source For Vegans.
Are you health and weight conscious? Do you work out to build muscles? Try black rice. It is a great source of protein and iron. Protein is essential for body building, muscle tissue repair, and strong bones too. It makes a vital part of vegan as well as vegetarian diets by helping meet your protein needs.
3. Black Rice Is Good For Digestion.
Black rice benefits by aiding digestion. It's rich in dietary fibre that binds the toxins and waste matter. And so, it flushes them out of your system. Black rice ensures good bowel movement and keeps irritating digestive problems like bloating, constipation, and diarrhoea away. Also, this rich dietary fibre is an excellent tummy satisfier.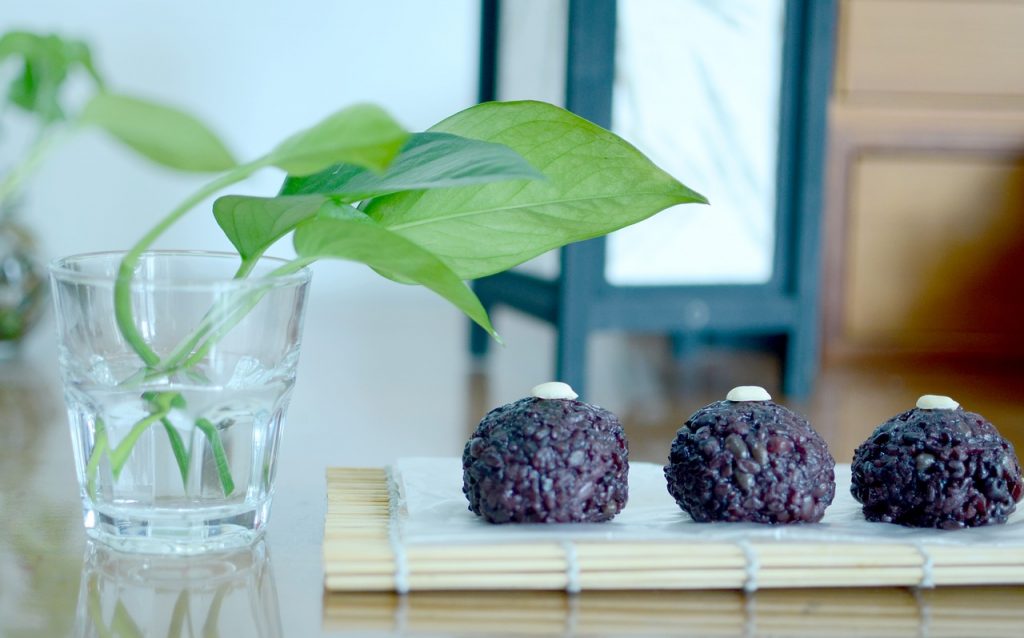 4. Black Rice Is Good For Skin Health.
Now this is one of the black rice benefits that might surprise you. Besides the powerful antioxidants in black rice, there are certain phytonutrients that flush out unwanted matter and cleanse our liver. We know that once the toxins are out of our system naturally, our skin will not suffer from outbreaks like acne. So obviously no ugly scars or blemishes either. Just a clean, clear, and healthy skin!
5. Black Rice Colours Food Naturally.
Wondering how to get that exotic black or dark purple colour for your dish? Our quest for colours to make our dishes look attractive makes us try get them through any means. Artificial, synthetic…we don't care. But this is very dangerous and harmful. We should use pure extracts and colour our foods naturally. The pigments in the bran of black rice can be powdered and used as a natural food colour. Or just boil some black rice and then, use the coloured water it leaves behind.
Now with all the health benefits of black rice you have read, we are sure you will surprise your family with a strange, yet nutritious, full of goodness, bowl of black rice! Add some brightly coloured veggies like yellow or red capsicum to further enhance the look and taste. Enjoy!
Note: Posts on Ayurvedum are solely for the purpose of sharing the goodness of Ayurveda and bringing awareness about natural and healthy living. Please do not substitute it for professional medical advice. Ingredients discussed can interfere with certain medications. So, before using anything to treat yourself, always consult an Ayurveda doctor or practitioner.