Is almond milk healthy? Almonds are one of the most wholesome nuts around. According to Ayurveda, almonds increase vitality and are a satvik food. Almond milk is now a popular vegan alternative to dairy milk, and for all the right reasons. These health benefits of almond milk will delight you!
Health Benefits Of Almond Milk
1. It Helps You Sleep Better.
This milk is cool, slightly sweet, and nutty. It instils a feeling of calmness as you savour it slowly. If you are looking for a natural way to fall asleep, drink almond milk at bedtime. The calcium in this delicious milk helps the body releases a hormone called melatonin, which is vital for sound sleep. It is more effective if slightly warmed. Here are more tips for better sleep.

2. It Is Good For Digestion.
Thanks to erratic eating times, rushed up meals, unhealthy fast foods and stressful lifestyles, we have so many digestive ailments that can lead to serious diseases. Being light and alkaline in nature, almond milk promotes a healthy digestive system. It's a great option for those with lactose tolerance.
3. It Is An Excellent Dairy Substitute.  
Dairy products like milk, butter, cheese are popular sources of calcium. For those who are vegan or lactose intolerant, no worries! Calcium fortified almond milk can be used just like dairy milk. What's more, it is lighter yet highly energising. And it doesn't contain unhealthy artificial hormones that are given to cows these days. You might also want to read about the top non-dairy sources of calcium. 
4. It Protects Your Eyes Naturally.
We are spending increasing amounts of time looking at screens – be it at work, at home, or even school. Almond milk can reduce the damaging effects naturally. How is almond milk healthy for eyes you ask? It is very rich in vitamins vitamins A and E, both powerful antioxidant that strengthen vision and protect eyes from macular degeneration and cataracts.
5. It Keeps You Strong From Within.
One of the important health benefits of almond milk is in its strength-boosting power. The high amounts of Vitamin E in this milk protects the cells from free radical damage. It also supports a healthy cardiovascular system. Vitamin A boosts immunity and bone health. Vitamin D is found in enriched almond milk, which fights fatigue, reduces depression, and supports healthy bones. The protein supports strong muscles. These are just some of the ways in which this yummy nutty milk  contributes to better health!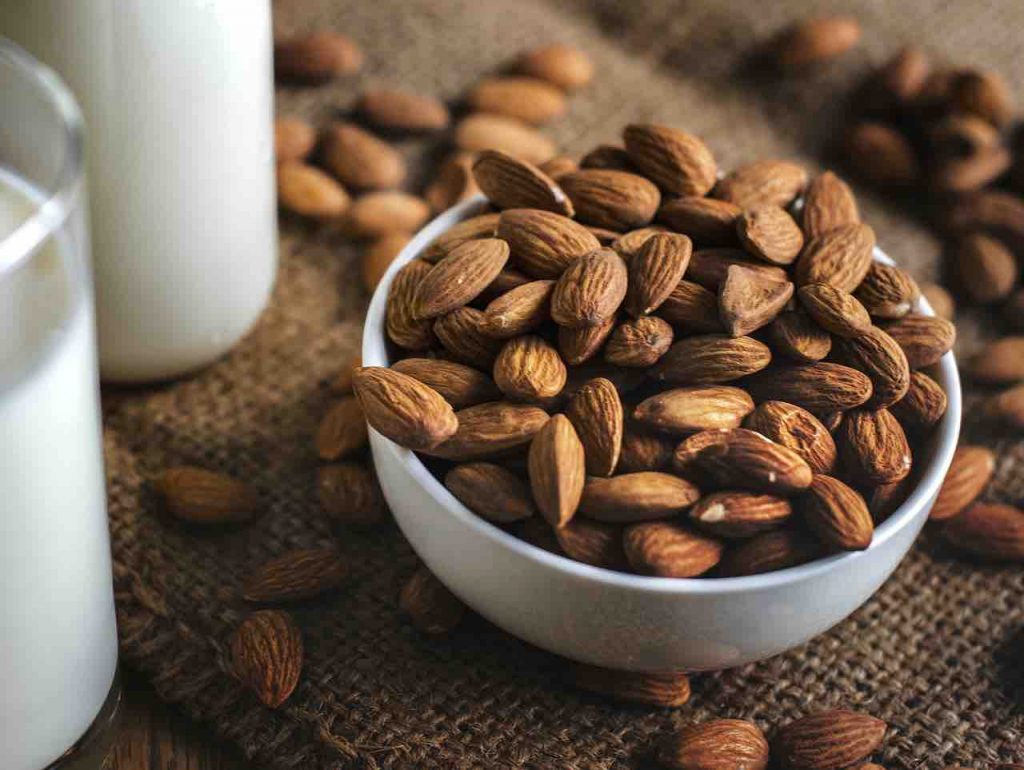 Note: Posts on Ayurvedum are solely for the purpose of sharing the goodness of Ayurveda and bringing awareness about natural and healthy living. Please do not substitute it for professional medical advice. Ingredients discussed can interfere with certain medications. So, before using anything to treat yourself, always consult an Ayurveda doctor or practitioner.