Spread the Ayurveda Goodness
Are you equipped with the right vegetables for healthy skin? Such veggies are a beauty essential, without which your skin care regime is incomplete. They provide your skin with nutrients that can heal damage, make it glow as well as prevent early ageing. So, what are these best vegetables for gorgeous skin? Find out here!
Vegetables For Healthy Skin
1. Dosha-Balancing Veggies
Any imbalances in the doshas show up on the skin. So to tackle this, you can eat vegetables that pacify your dosha. Here's an easy guide for each dosha:
Vata: Eat warming, sweet, sour, lubricating, heavy foods – sweet potatoes, zucchini, carrots & beets
Pitta: Eat cooling, astringent, bitter, moderately heavy foods – cucumber, leafy greens & potatoes
Kapha: Eat warming, astringent, pungent, light, raw foods – leafy greens, cauliflower & potatoes
Note that unless you have dosha aggravation, you should eat a variety of regional vegetables. don't eliminate other foods. Just eat more of what pacifies your dosha.
2. Indulge In The Goodness Of Leafy Greens.
A clean colon as well as strong digestion are very important for healthy skin. Leafy greens are vegetables good for skin since they ensure both of these. Kapha skin types should go for peppery greens like mustard, while Pittas for bitter ones like fenugreek or tender dandelion. Vatas can eat them steam cooked and drizzled with olive oil, or stir fried with Ayurvedic spices.
3. Vitamin C Veggies Boost Beauty.
Among the best vegetables for skin health are Vitamin C sources. Vitamin C encourages collagen production, increases elasticity and suppleness, prevents wrinkles, and it's also a free radical warrior. Regularly eat vegetables like Brussel sprouts, broccoli, spinach, bell peppers, radish, and sweet potatoes.
4. Load Up On Antioxidant-Rich Veggies.
Few things can affect the texture of the skin as badly as oxidative stress. To fight this, ensure that you eat antioxidant-rich foods. Vegetables good for skin fiercely protect your body from free radical damage. These veggies will add colour to your dish as well as cheeks: beetroot, eggplant, purple cauliflower, artichokes, kale, red cabbage, and spinach.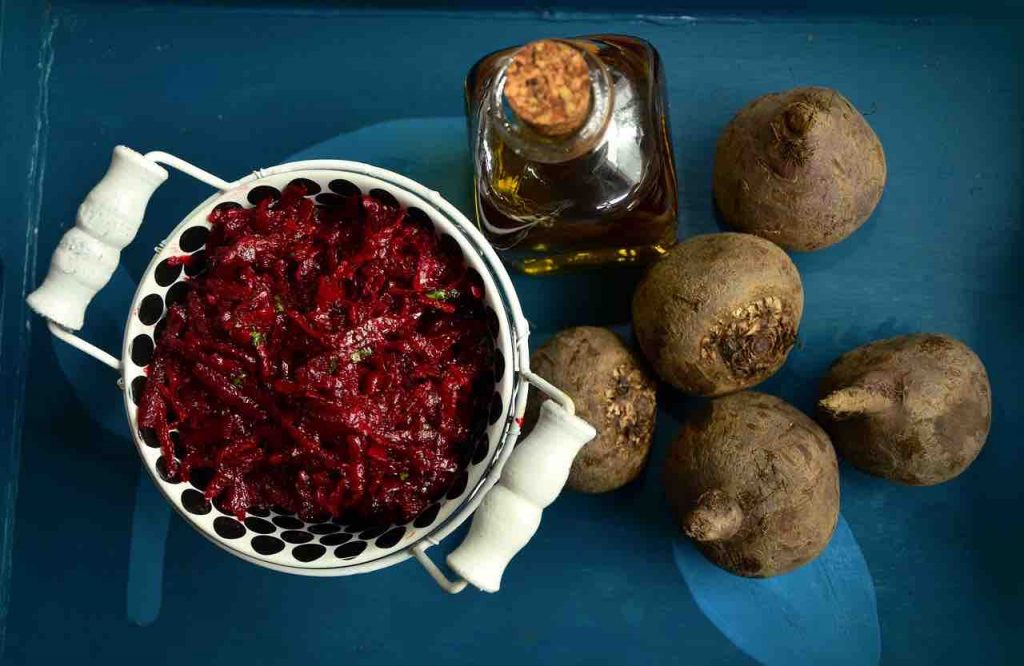 5. Reap The Benefits Of E.
Another set of vegetables good for skin are those rich in Vitamin E. Vitamin E, a fat soluble vitamin has numerous benefits for the skin. As a natural antioxidant, it protects the body from rogue free radicals, toxins, and UV damage. It absorbs UV light and keeps the skin hydrated. Vitamin E can be found in yams, dark leafy greens, and sweet potatoes.
6. Don't Forget The Selenium Sources.
The best vegetables for skin also contain selenium. The role of this trace mineral is to increase skin elasticity and firmness. It reduces effects of Sun damage. It also heals the skin if already Sun damaged. Green peas, spinach and carrots are best vegetables for skin with selenium in good amounts.
Eat wise and stay beautiful with these vegetables for healthy skin!
Note: Posts on Ayurvedum are solely for the purpose of sharing the goodness of Ayurveda and bringing awareness about natural and healthy living. Please do not substitute it for professional medical advice. Ingredients discussed can interfere with certain medications. So, before using anything to treat yourself, always consult an Ayurveda doctor or practitioner.