Spread the Ayurveda Goodness
Bhakti yoga is a path of yoga mentioned in the Bhagavad Gita, one of India's most sacred ancient books. What is Bhakti yoga? Also known as 'yoga of love', this type of yoga is all about devotion and unconditional love for the divine. It involves various methods of cultivating and developing this.
In the heart of Bhakti yogis, spiritual love transcends all the desires and worldly emotions. And they reach a state where they are unaffected by gains as well as losses in the material world – they simply enjoy the bliss of oneness with the divine.
9 Spiritual Practices Of The Bhakti Path
1. Sravana – Hearing About God
The Bhagavad Gita recommends listening to the stories as well as decriptions of God mentioned in the ancient scriptures. Hearing and filling up one's mind about God's glories helps develop a deeper connection with and longing for the divine.
2. Kirtana – Devotional Singing 
A very popular practice in Bhakti yoga, kirtana involves singing about the divine. This can also be done by groups of devotees together. Kirtana can be a rather joyful experience. It purifies the heart as well as the mind.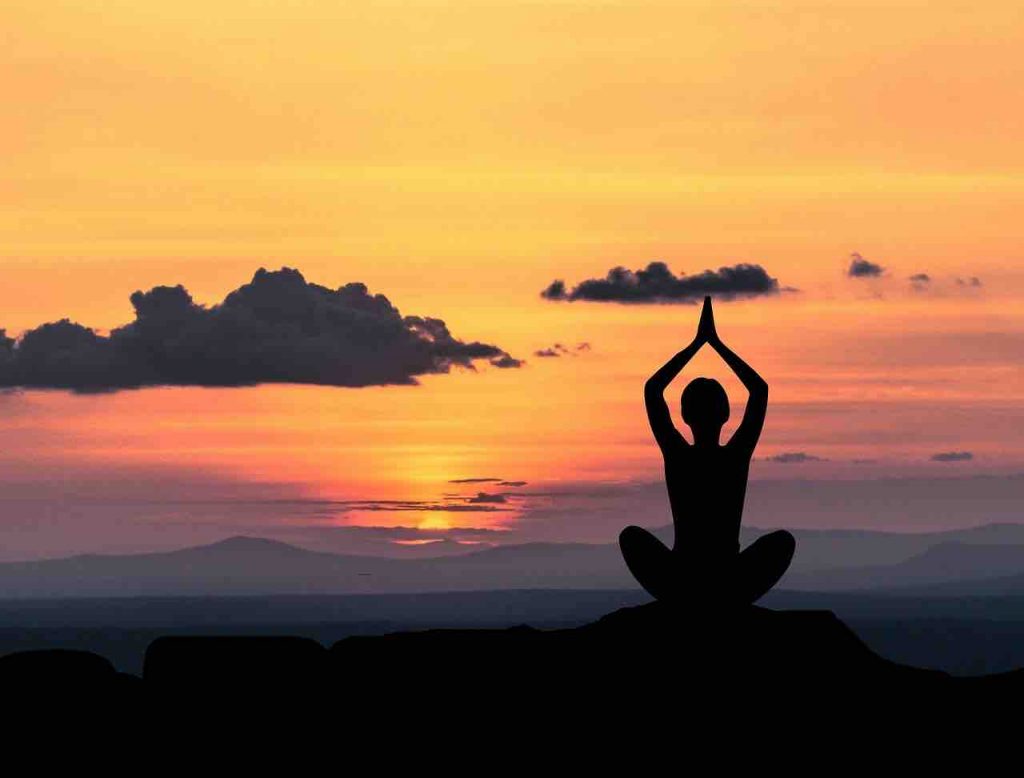 3. Smarana – Remembering & Meditating
In Bhakti yoga, one always meditates on God's teachings as well as glories. This helps stay mindful during difficult moments and to act in accordance with the divine teachings. It protects the yogi from the pulls of negativity as well as materialism.
4. Padasevana – Serving The Divine
The yogi serves the world selflessly – recognising that everyone is a manifestation of the divine. It has a deeply purifying and uplifting effect on one's mind. It helps dissolve the ego and prepares for oneness with God.

5. Archana – Worshipping God
Ritual worship (puja), serving the poor, and mental worship are some of the ways to practice Archana in the Bhakti path. It develops the practice of surrendering one's ego and the desire to please the divine.
6. Vandana – Prayer & Prostation
Through prayer as well as prostation, Bhakti yogis surrender themselves to the divine. They cultivate humility, increase positive vibrations, and help lay one's life in God's hands. This promotes acceptance for all situations in life.

7. Dasya – Permanent Service
Further strengthening their devotion to God, Bhakti yogis begin to completely abandon their material desires and align their wills with that of God. They can perform a variety of activities with selfless service at heart.
8. Sakhya – Friendship With God
Bhakti yogis are God's companions. They believe that God is always with them. God is their best friend. And so, they do not hold any secrets from God and communicate freely with the divine. The relationship becomes very intimate.

9. Atma-Nivedana – Divine Oneness 
Last among the 9 practices of the Bhakti path is Atma-nivedana, which is the complete surrendering of one's self to God – the devotee's body, mind, and soul all belong to the divine. There is nothing to gain or lose in the material world and deep inside, there is pure bliss and oneness with God.
Note: Articles on Ayurvedum are solely for the purpose of sharing the goodness of Ayurveda and bringing awareness on natural and healthy living. Please do not substitute it for professional medical advice. Ingredients discussed can interfere with certain medications. So, before using anything to treat yourself, always consult an Ayurveda doctor or practitioner.