Spread the Ayurveda Goodness
If you knew about these fantastic pine nuts benefits, you'd be munching on a bunch every day. Where do pine nuts come from? Well, you can get them from over 20 species of the pine nut tree! Humans have cultivated them for many thousand years. Packed with a variety of nutrients, they give your health quite the boost. Ayurveda recognises them as a pacifier of Vata dosha, since they are heavy and warming. But Pitta and Kapha types can also enjoy them in moderation. Let's look at some more noteworthy pine nuts nutrition facts.
Pine Nuts Health Benefits
1. They Are Great For Your Brain.
Walnuts are not the only nut your brain loves – boosting brain health is also among the pine nuts benefits. This nutritious nut provides you with iron, magnesium, and vitamin E. Thus, it keeps your brain nourished with oxygen, supports proper functioning of the nervous system, reduces stress, and also lowers oxidative damage.
2. They Make You Energetic.
A pine nuts nutrition fact worth knowing is that they are packed with energy boosters like calories, protein, iron, and magnesium. So if you often experience fatigue, eat pine nuts. You can also combine pine nuts, almonds, and cashews in a jar and reach for it whenever you need a pick-me-up. Here are some more fatigue fighting foods.
3. They Supply Lots Of Manganese.
Among the lesser-known pine nuts health benefits is manganese supply. This nut is incredibly high in manganese – just an ounce contains around 100%. Wondering what manganese is good for? It supports vital activities like metabolism, nerve function, coordination between the brain and muscles, bone health, and fertility. Deficiency of this nutrient is rare, but it's still important to be aware of its rich sources.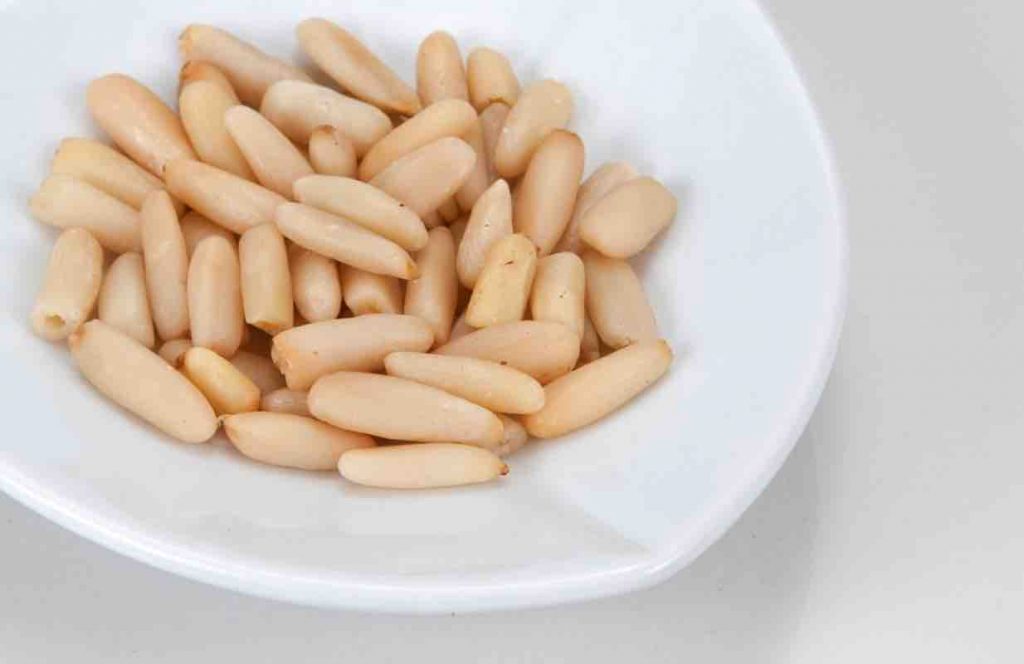 4. They Maintain A Healthy Heart.
If heart disease runs in your family, it's wise to eat pine nuts. Being a good source of healthy fat, vitamins E and K, iron and magnesium, pine nuts support the functioning of your heart. They are known to improve blood circulation and reduce cholesterol. Being a stress-busting food, they can also help manage hypertension.
5. They Boost Bone Strength.
Here's a pine nuts nutrition fact: just an ounce supplies men with 17% and women with 12% of their daily vitamin K needs. So, one of the important pine nuts benefits is that they are wonderful for your bones. Vitamin K improves bone density and can help prevent bone conditions like osteoporosis.
6. They Help Lose AND Gain Weight!
Yes, there are pine nuts health benefits for those who want to gain weight as well as people who want to shed it. If you're trying to lose weight, sprinkling pine nuts onto your salads will help you feel more satisfied from the meal and full for longer – thus delaying your next food craving. For those trying to add some kilos, eating generous amounts of pine nuts helps increase your daily calorie intake, thus helping you build your body.
Note: Posts on Ayurvedum are solely for the purpose of sharing the goodness of Ayurveda and bringing awareness about natural and healthy living. Please do not substitute it for professional medical advice. Ingredients discussed can interfere with certain medications. So, before using anything to treat yourself, always consult an Ayurveda doctor or practitioner.