Ylang ylang, pronounced 'eelang eelang', means 'flower of flowers'. Native to east Asia, this flowering plant usually grows in tropical areas and was originally used to decorate newly weds' beds because of its divine fragrance and aphrodisiac qualities. There are many more ylang ylang uses for health, beauty and wellness.
Ylang Ylang Uses
1. It Lifts Mood.
Ylang ylang oil can calm frayed nerves and anxious minds. It works as an antidepressant and mood enhancer. It relaxes the body and mind, and can help create positive feelings of joy and happiness. This oil can also help you sleep like a baby.
2. It Heals Wounds.
The ylang ylang essential oil uses include being a disinfectant, thanks to its antiseptic properties. It is found that ylang ylang inhibits microbial growth. So, it can stop the wound from getting septic. It protects wounds from viral, fungal, and bacterial infections, and helps heal faster.
3. It Lowers Blood Pressure.
High blood pressure is a serious condition affecting many today. Studies have shown that ylang ylang oil is a natural remedy to control blood pressure levels and heart arrhythmia. Massage the heart area with a few drops of ylang ylang oil. You can even add a drop or two to warm water and use it as a dietary supplement. But consult a doctor first.
4. It Gives Lustrous Hair.
There are ylang ylang essential oil uses for our crowning glory. Combining it with jojoba or coconut oil and massaging the scalp strengthens hair roots, reduces tangling, keeps away embarrassing lice, and also prevents dandruff. This oil stimulates the scalp and controls sebum secretion – giving you healthy, glossy, and lustrous hair.
5. It Connects The Body And Mind.
One of the lesser known ylang ylang uses is the manner in which it connects the mind and body. Its fragrance has a grounding effect, and brings you back into the body. This amazing oil works with our cardiovascular and endocrine systems, and supports emotional balance. No wonder it is also called 'oil of the heart'.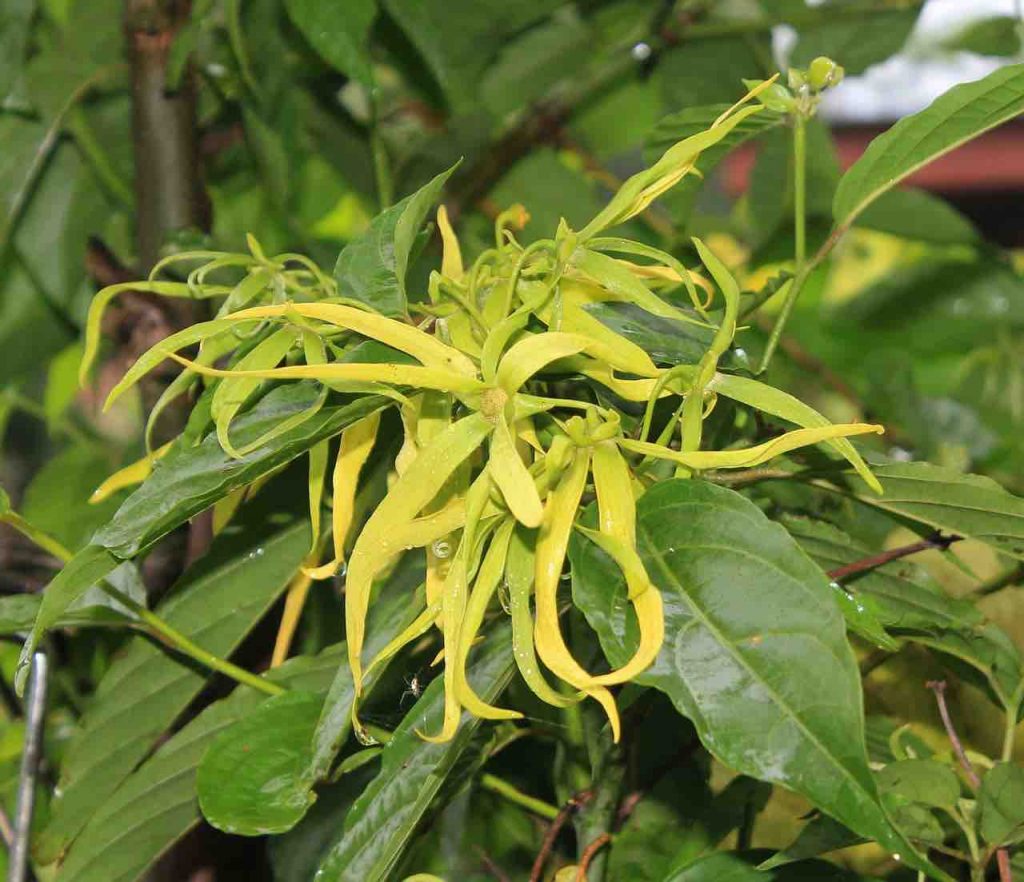 6. It Is Rejuvenating.
Do you often feel low, drained out, fatigued, or simply depressed? Treat yourself to some energizing aromatherapy with this herb. One of the ylang ylang essential oil uses is total rejuvenation. This oil can relieve body aches and pains, while relaxing your mind. Just add it to your diffuser and enjoy its fragrance.
7. It Eases PMS And Cramps.
Premenstrual days can cause severe mood swings. Applying ylang ylang essential oil and lavender oil to the lower abdomen and back of the neck can release the stress and tension associated with PMS. It also relieves menstrual cramps. This is a natural and sweet-smelling remedy, often better than popping pills.
Note: Posts on Ayurvedum are solely for the purpose of sharing the goodness of Ayurveda and bringing awareness about natural and healthy living. Please do not substitute it for professional medical advice. Ingredients discussed can interfere with certain medications. So, before using anything to treat yourself, always consult an Ayurveda doctor or practitioner.