Spread the Ayurveda Goodness
Most of us brush our teeth twice a day for two entire minutes…but if it stops at that, our oral hygiene routine is incomplete. Because an extremely important organ, the tongue, is missing out on the care it needs! A healthy tongue is important for overall health. In fact, Ayurvedic doctors can look at your tongue and say a whole lot about your health – both physical as well as mental! So, do you have a healthy tongue? And if not, what can you do to prevent tongue disease?
The Benefits Of A Healthy Tongue
Your tongue can determine the quality of your breath – when unclean, it can result in foul odour even if you brush regularly.
A healthy tongue keeps 'ama' or toxins out of your body, since toxin build up starts with your mouth. If you have a white tongue, chances are that you have too much ama in your body!
When your tongue is clean, it ensures that your taste buds can function well, which means your food tastes better.
This also supports better digestion.
This organ promotes better overall oral health and prevents tooth issues like decay.
It also promotes healthier gums since your gums are affected by the amounts of bacteria in the mouth.
By preventing toxins build up, your tongue also plays a role in maintaining strong immunity.

2 Tongue Cleaning Techniques To Prevent Tongue Disease 
1. With A Tongue Scraper
Also known as 'jihwa prakshalana', tongue scraping is an ancient Ayurvedic practice that gets rid of toxins, bacteria, dead cells, and undigested food from the tongue. This prevents tongue infection and other oral issues like a white tongue. If you've noticed a white coating on your tongue – or one that is even yellow, green, or grey – chances are that your tongue needs a good scrape!
How It's Done:
Stick out your tongue gently.
Rub a tongue scraper from the inside to the outside of your tongue.
Don't rub hard, and wash the scraper each time.
Rinse your mouth well afterwards.
Ayurveda recommends using a scraper made of copper, brass or silver.
Always scrape your tongue on an empty stomach.
2. Oil Pulling With Coconut Oil
Have you ever heard of oil pulling? This is an excellent technique to cleanse the entire mouth and prevent tongue disease. Coconut oil is a powerful Ayurvedic ingredient that has antibacterial, anti-fungal, and antiviral properties. It also lowers inflammation. It helps get rid of the white tongue problem, since it pulls out all the impurities from the tongue. Practise oil pulling with it every morning on an empty stomach, and you'll see a difference in just a few days.
How It's Done:
Take a tablespoon of extra virgin coconut oil in your mouth.
Then, simply swish it around thoroughly in all directions.
Do this for about 10-20 minutes. You should see the oil turn whitish.
Lastly, spit the oil out.
Rinse your mouth well.
Oil pulling is best done on an empty stomach, before scraping your tongue and brushing your teeth.
Remember, never swallow the oil.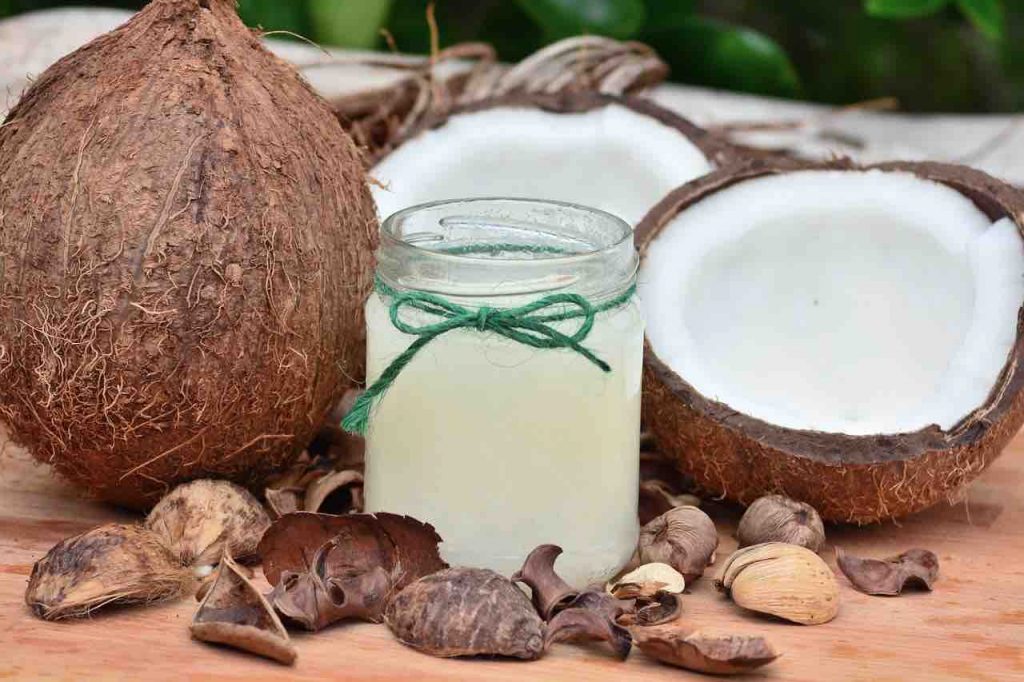 Note: Posts on Ayurvedum are solely for the purpose of sharing the goodness of Ayurveda and bringing awareness about natural and healthy living. Please do not substitute it for professional medical advice. Ingredients discussed can interfere with certain medications. So, before using anything to treat yourself, always consult an Ayurveda doctor or practitioner.