Spread the Ayurveda Goodness
Why take cooling herbs? Ayurveda emphasises the importance of balance in the elements within us. When the fire element (found in Pitta dosha) gets aggravated, this can throw the body as well as mind off balance. Pitta types are most prone to this, but it can happen to anyone during the summer. It leads to problems like inflammation, irritability, rashes, acne, insomnia, ulcers, heartburn…the list goes on! Pick your favourite herbs from this list of cooling herbs for summer, and you can get instant relief from the heat!
List Of Cooling Herbs For Summer Heat
1. Sandalwood Revives Your Mind
Next on the list of cooling herbs herbs is the earthy sandalwood. Mix sandalwood powder with water and apply this paste on your forehead. It cools the mind while boosting focus, concentration as well as mental clarity. Sandalwood also reduces blood pressure. You can burn sandalwood incense in your home to maintain soothing ambience.
2. Rose – Fragrant & Calming
Rose is one of the most soothing herbs to lower body temperature. It has antibacterial as well as anti-inflammatory properties. It's great for heat-induced pimples. And it also calms the mind. Add rose essential oil to your aromatherapy diffuser for its Pitta-balancing and soothing effects. You can also add rose water to sherbets, smoothies, and kheer; it lends a lovely scent and flavour.

3. Amalaki – An Antioxidant Powerhouse
Though technically a fruit, amalaki is used as a herb in Ayurveda and has tremendous medicinal value. This herb pacifies all doshas, but it's particularly pacifying for Pitta. It not only cools the body, but supplies it with around twenty times more vitamin C than an orange would! This herb rejuvenates and strengthens the body. You can either eat amalaki or make a drink with its powder.
4. Peppermint – A Must-Have Summer Herb
One of the best cooling herbs for inflammation is peppermint. Not just that – peppermint also has pain relieving, anti-fungal, and antimicrobial properties. It's great for heat headaches too. Sip on freshly peppermint tea that's cooled down to room temperature. You'll immediately feel its calming yet refreshing effects. Here are some benefits of peppermint oil.
5. Neem – An Excellent Pitta Pacifier
Among the best cooling herbs for the skin, neem gets rid of excess Pitta from the body – thus tackling problems like acne, rashes, dullness, and inflammation. It's also a wonderful dandruff remedy. What's more, neem heals stomach ulcers, treats weak eyesight, and cleanses impure blood…all of these are Pitta-related problems. Drink neem tea for its cooling benefits. Here are some more benefits of neem.
6. Coriander – Healing & Flavourful
Last on the list of cooling herbs for summer heat is coriander. This long-used Ayurvedic herb is balancing for all doshas. It tackles a range of problems arising from excess heat, like heartburn, acidity, diarrhoea, skin rashes, high blood pressure, and heat headaches. You can either drink coriander seed tea, or simply garnish your soups, curries, and salads with fresh coriander leaves.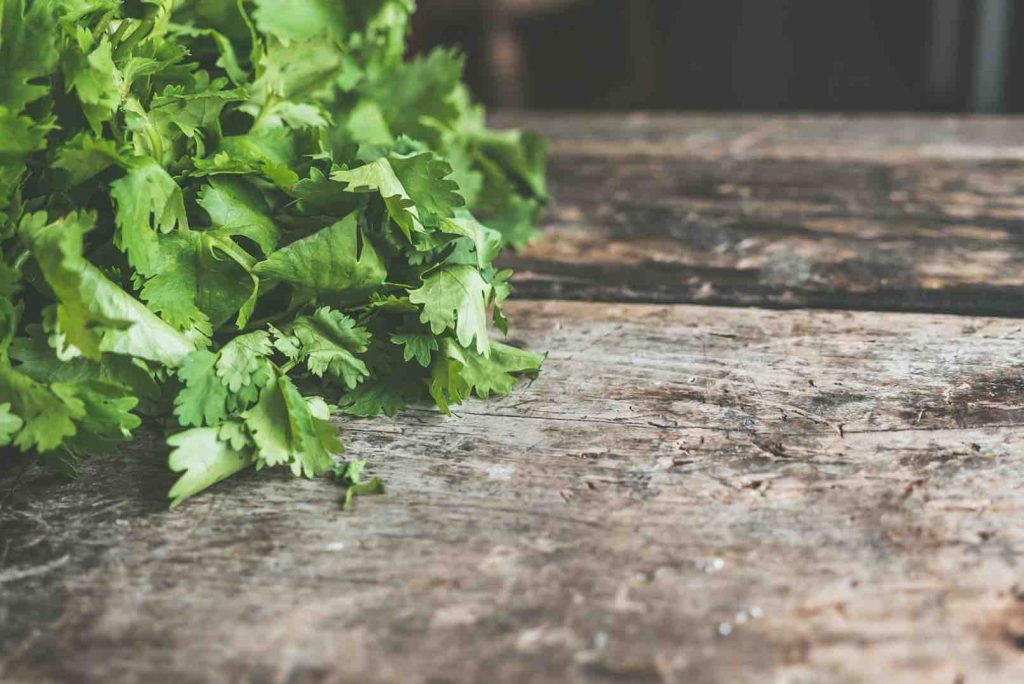 Which one of these herbs is your favourite? Let us know in the comments section below!
Note: Posts on Ayurvedum are solely for the purpose of sharing the goodness of Ayurveda and bringing awareness about natural and healthy living. Please do not substitute it for professional medical advice. Ingredients discussed can interfere with certain medications. So, before using anything to treat yourself, always consult an Ayurveda doctor or practitioner.