Spread the Ayurveda Goodness
There are three doshas (mind-body types) in Ayurveda, namely Vata, Pitta, and Kapha. Pitta dosha is the mind-body type dominated by fire and water. Aggravation of Pitta – meaning excess of fire and water – leads to a range of health problems, which we will soon talk about. Pitta dosha can be balanced by following some simple Pitta diet rules. In this post, we'll tell you what food to include in your Pitta diet, as well as what to eat in moderation.
Why Balance Your Pitta Dosha?
The qualities of Pitta are: hot, dry, light, sharp, and acidic. The Pitta body type has such characteristics. Pitta people have excellent digestion, a sharp intellect, and abundant energy. But when out of balance, they face problems such as:
Ulcers
Acid reflux
Burning in the body
Excess anger
Impatience
Rashes on the skin
Inflammation
Excess thirst
High sensitivity to heat
Hair loss
Hypertension
Pitta Dosha Diet: What To Eat?
1. Chill Out With Cooling Foods.
This one was easy to guess, right? The best Pitta food has cooling properties. This combats the fieriness of the dosha. It helps tackle Pitta dosha problems from ulcers to agitation. In general, let your food cool down a bit before eating it.
Examples:
Cucumber
Watermelon
Raw vegetables
Milk
Mint
Coriander

2. Favour Sweet And Mild Foods.
Pitta food is mild and sweet, rather than pungent. Sweet and mild food has a soothing and cooling effect on the body, which is immensely beneficial for Pitta folks.
Examples:
Grapes
Milk
Coconut
Mango
White rice
Dates
Squash
3. Balance With Bitter.
Pitta food is also bitter. Bitter foods are highly cooling in nature. They also cleanse the blood, support a healthy liver, reduce itching, and improve digestion. Pitta folks should eat plenty of bitter foods.
Examples:

4. Eat Plenty Of Astringent Food.
Make sure to include astringent tasting things in your Pitta dosha diet. Astringent food is characterised by a chalky, dry taste. It balances Pitta's liquid nature.
Examples:
Pomegranate
Chickpeas
Adzuki beans
Soybeans
Cranberries

5. Ground Yourself With Heavy Food.
Pitta is a very light dosha. Heavy food nurtures and grounds Pitta folks. It also prevents fast depletion of energy, which is quite common among those with this dosha.
Examples:
*It's important to avoid excessively heavy foods like red meat and processed items. They do nobody any good!
Pitta Diet: What To Limit?
Exercise strict moderation with foods that are pungent, hot, sour, and salty. Such food easily aggravates Pitta, leading to a range of health problems. Examples of foods to limit or avoid are:
Chilis
Raw onions
Ginger
Paprika
Vinegar
Hard cheese
Alcohol
Coffee
Excess salt
Pickles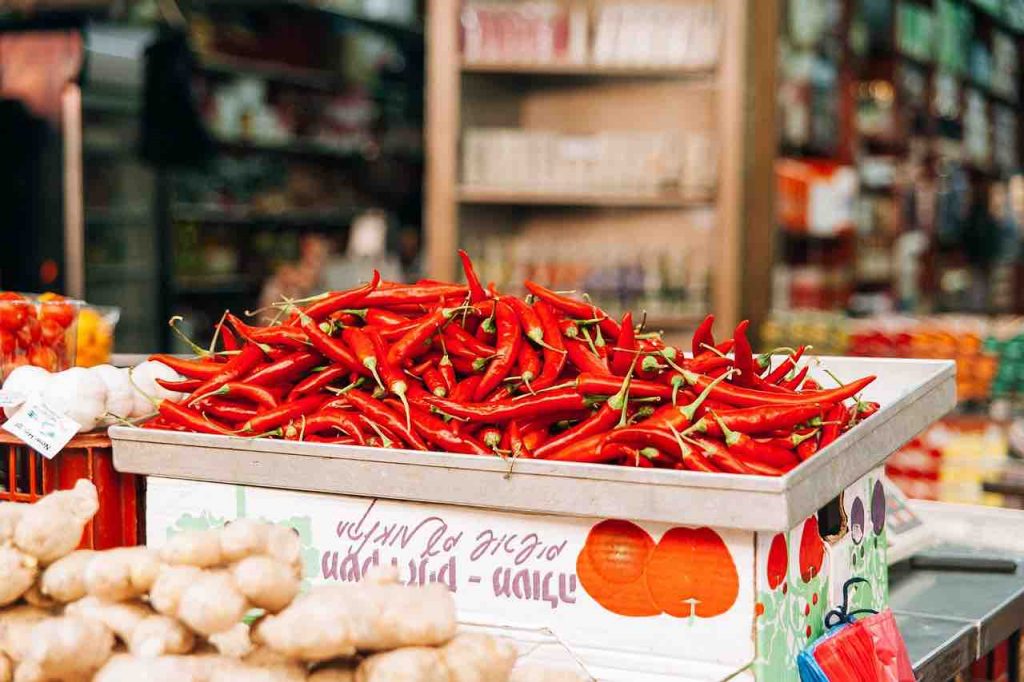 Note: Posts on Ayurvedum are solely for the purpose of sharing the goodness of Ayurveda and bringing awareness about natural and healthy living. Please do not substitute it for professional medical advice. Ingredients discussed can interfere with certain medications. So, before using anything to treat yourself, always consult an Ayurveda doctor or practitioner.