Anxiety is a sign of too much Vata. Vata is related to movements like our thoughts, blood flow, breathing, waste elimination…and it moves fast. If there is an excess of Vata, there will be high levels of anxiety and chaos in our entire system. Ayurveda has a wonderful remedy: an anti-anxiety diet. This will help you get rid of detrimental imbalances and bring you to a state of calmness.
Let's look at some of the best as well as worst foods for anxiety.
Anti Anxiety Foods
1. Best Diet For Anxiety: The Basics
The best anti anxiety diet is one that has foods to lift your mood.
Complex carbs like whole grains boost calming chemicals like serotonin.
Protein sources like milk, lentils, and soy provide energy.
Water keeps us hydrated.
Nutrient-dense fruits and vegetables nourish the body and mind.

2. Take Ayurvedic Herbs For Anxiety.
Ayurvedic herbs are some of the best foods for anxiety. They are:
You can drink warm teas made with these healing herbs, or add them to your food.
3. Eat Cooked And Spiced Veggies.
Warming and grounding vegetables like sweet potato, carrots, asparagus, and beet are great. Cook them in rich spices like cardamom, cinnamon, cumin, turmeric, mustard seeds, and ginger with a pinch of salt. This reduces Vata. Prepare these dishes with generous amounts of ghee.
4. Keep It Simple And Warm.
The best diet for anxiety is simple, easily digestible, and consumed warm. Nourishing and wholesome stews, soups, and dals made with warming spices give you an energizing, refreshing, and soothing after-meal feeling. So good to calm those nerves!

5. Snack On Fresh Fruits And Nuts.
Sweet and sour fruits like avocado, oranges, mangoes, grapes, cherries, peaches, plums, and melons  are always effective in an anti anxiety diet. Keep these seasonal precious gifts from Mother Nature well stocked – along with some brain-friendly nuts like almonds, pistachios, walnuts, cashews, and hazel nuts to snack on.
Anxiety Foods To Avoid
1. Keep Away From Caffeine.
Did you know that there are foods that cause anxiety? Caffeinated beverages like tea and coffee are too Vata aggravating. Coffee is diuretic and suppresses serotonin levels. Artificial sugars added to it make things even worse. Caffeine leaves you feeling exhausted and irritable in the day, but wide awake at night!
2. Keep Away From 'Shelf life' Foods.
Ayurveda always says to avoid processed, cured, aged, artificially sweetened, and refined items. They contain toxic chemicals and feed the harmful bacteria in the gut. Our anxiety levels are greatly affected by our gut health. So, eliminate such items from your anxiety diet.

3. Fight Those Fries.
Fried foods contain trans fats that clog the arteries and prevent smooth blood flow to the brain. Poor blood supply to the brain will raise your anxiety levels. Not a good thing at all to feature in your anti anxiety diet.
4. Shake Off The Salt.
Salt is necessary for us, but excess of sodium  in our diet can cause serious neurological problems. It results in fluid retention and bloating – leading to weight gain. So, check the sodium content in your anxiety diet.
5. Avoid Refined Sugar.
Last up is refined sugar, a dangerous food for anyone and everyone. Refined sugar increases Vata, damages the nervous system, spoils gut health, causes fatigue, and even makes us irritable. Favour natural sugars like date syrup, jaggery, and honey instead.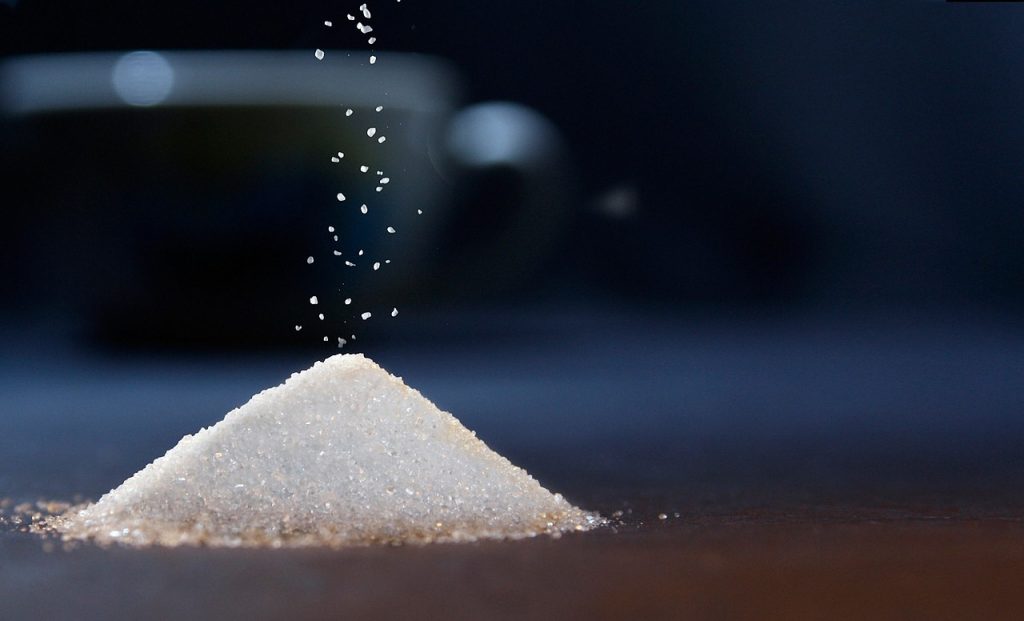 With a little bit of help from the above points, you can decide to choose which foods to avoid with anxiety issues and follow your very own best diet for anxiety!
Note: Articles on Ayurvedum are solely for the purpose of sharing the goodness of Ayurveda and bringing awareness on natural and healthy living. Please do not substitute it for professional medical advice. Ingredients discussed can interfere with certain medications. So, before using anything to treat yourself, always consult an Ayurveda doctor or practitioner.