Spread the Ayurveda Goodness
A skin rash is an unexpected change in the colour or texture on the skin. It could be reddish swollen, bumpy, dry, scaly, flaky, itchy, burning, and/or painful. According to Ayurveda, skin rashes occur due to an imbalance in the blood tissues. A common culprit in this condition is ama or toxins. Normally, toxins are flushed out through the skin, lungs, digestion, and urine. But when there is an excessive build up of toxins, they manifest in the form of eruptions or rashes on the skin. If you are looking for a skin rashes remedy, here are some you could choose from.
Skin Rash Treatment
1. Tea Tree + Chamomile + Almond
A helpful skin rashes remedy is a combination of three essential oils. Mix equal proportions of tea tree oil, chamomile oil, and almond oil. They give immense relief from the discomfort and help heal the rashes fast.
2. Purify Your Blood With Herbs.
Since rashes arise from impaired blood tissues, blood-purifying herbs are a good skin rashes remedy. Herbal alternatives like gotu kola, manjistha, guduchi, turmeric, and neem thoroughly cleanse the blood. They are cooling for the body and healing for the skin.
3. Aloe Vera Cleanses The Skin.
Aloe vera sap can be applied onto the rash for quick relief. The juice is also useful; it's a natural blood purifier which is safe to drink for most people. Drink 2 to 3 tablespoons twice a day to heal your skin from the inside.
4. Neem Is A Powerful Remedy.
One skin rashes remedy that has been used since ages is neem water. Boil some fresh neem leaves in water for some time. Once the colour of the leaves has been nicely absorbed by the water, let it cool down. Wash the itchy part with this water and gently dry with a soft, smooth towel. Do not rub.
5. Try Using Licorice Root Powder.
One simple itchy skin rash treatment is mixing a teaspoon of powdered licorice root with a little sesame oil. Warm this and gently apply it onto the rash. Gently wrap it with a soft bandage and keep it for a few hours. Do this twice a day.
6. Boost Healing With A Hot Compress.
A hot compress is another itchy skin rash treatment you could try. Apply a heating pack onto the affected area for about 15-20 minutes a day. This will relax the muscles and relieve pain while boosting blood circulation for quicker healing.
7. Tulsi Leaves Have Medicinal Properties.
Make a smooth paste of crushed tulsi (holy basil) leaves with a bit of water. Applying this on the rash will help clear it up. You can also drink tulsi tea to help cleanse your body from within. Here are some more excellent benefits of holy basil.
8. Place Tea Bags On The Rashes.
Green tea has anti-inflammatory properties, making it a helpful ingredient for itchy skin rash treatment at home. Place cold tea bags on the skin rash and get instant relief. Check out some more fantastic benefits of green tea.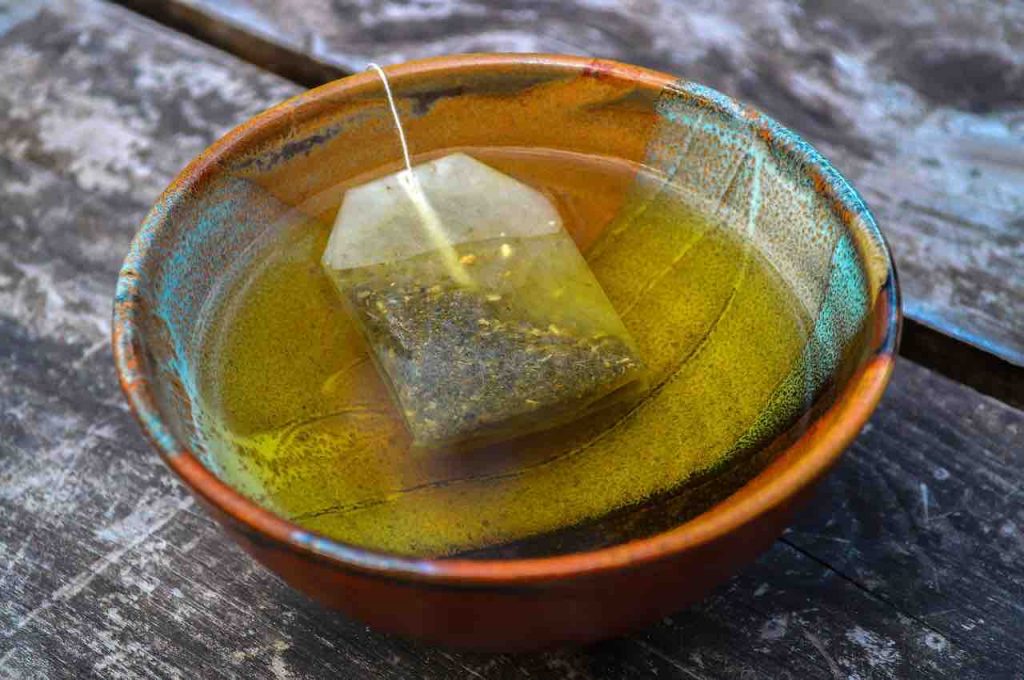 Note: Posts on Ayurvedum are solely for the purpose of sharing the goodness of Ayurveda and bringing awareness about natural and healthy living. Please do not substitute it for professional medical advice. Ingredients discussed can interfere with certain medications. So, before using anything to treat yourself, always consult an Ayurveda doctor or practitioner.